This post, crossposted from Transportation for America, is a personal farewell from our friend and colleague David Goldberg, who was the founding communications director for Smart Growth America in 2002 and helped get Transportation for America off the ground in 2008-2009 as communications director. Other than former Gov. Parris Glendening at SGA, David was the longest tenured SGA/T4A employee, helping to steer this small part of the larger movement for transportation reform and creating better places over the last thirteen years. We'll miss him deeply, and wish him the best in his new endeavors. Here are few thoughts directly from David as he departs. –Ed.
---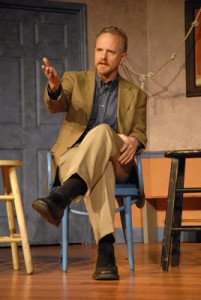 David Goldberg
After 13 great years with Smart Growth America and Transportation for America, I am moving on to a new challenge. For two decades I worked on addressing the consequences of our 20th century efforts to re-engineer our human habitat. Now I'm joining a new group that is grappling with the after-effects of industrializing the American diet during that same period.
The change is bittersweet. We've had a great ride since starting SGA in the early 2000s, bringing attention to the problems associated with out-of-control development patterns and helping to reshape policies, practices and even consumer preferences toward more walkable — and workable — neighborhoods and transportation networks.
We've seen enormous change over the last 13 years, with the arc of planning, development and transportation trends bending ever more in the direction this movement has worked for. Smart Growth America can't claim credit for all that of course, but the organization and its allies clearly had a hand in helping communities adjust to shifting patterns of growth. In many places across the country, "Sprawl is out, compact is in."
I think it was fitting that on my last day in the office with my D.C. colleagues, we released Core Values: Why American Companies are Moving Downtown, shepherded into existence by the incomparable Alex Dodds, the communications director for Smart Growth America. After all, it was when executives started moving their companies and families to the outskirts in the late 20th century that the country launched into hyper-sprawl; a reversal of that trend is significant, indeed.